L & H's Most Excellent European Vacation.

Eating and drinking our way through England, France, Switzerland, Germany, Denmark, Sweden, and Belgium during three weeks in the summer of 1998.
Day 1: Monday, June 29, 1998
San Francisco - Heathrow - Cambridge
Arrived to grumpy British immigration with 20 questions -- for Hilari, that is, mine was a breeze as an EU citizen. Then we missed the Cambridge coach with just a few seconds again -- or at least so we thought. The bus had started pulling away when we arrived and refused to let us on. Furiously, I retreated to the stuffy cafeteria -- only to see a new bus arrive 20 minutes later. Looks like that was the real one (late) and the previous one was going to Gatwick (also late). Arrived Cambridge and booked into the cramped but clean Regency Guesthouse (double with shower, GBP 60). Took a nap, and headed out on town to get reacquainted with the British beers. Had:
| | |
| --- | --- |
| | A pint of Greene King's Abbot (lovely) at the Free Press |
| | A pint of ??? (marginal) at the Tram Depot |
| | A pint of ??? (quite decent) at the King Street Run |
| | A pint of FA, a half of Batesman XXXB (nice), and a half of ??? at the Hogshead |
Day 2: Tuesday, June 30, 1998
Cambridge
Woke up early and found it hard to get back to sleep. Eventually got out of bed around 9-10 and bought a couple of sandwiches at Lind's (?): Pate & Prawn Cocktail -- yum! Brought them back to the room and had breakfast en suite. Headed back out just before noon and took a ride with the cream and green Guide Friday busses (GBP 7.50) for a windy one-hour tour around Cambridge. Returned to the hotel to pick up a sweater and headed over to Tattie's for a spud lunch (prawn cocktail & cheese, GBP 5). Afterwards, walked around town for a bit and ended up over by the river at Silver Street. Continued home for a much too short nap.
Around five, I got dressed and headed over to EuroPARC to see old friends, etc. Chatted with Christine (King), Allan (McLean), and Graham (Button) for a while before Hilari arrived at 17:45. Together, we then headed over to the Evensong at King's Chapel. We arrived just as the service was about to start, so we had to wait for a few min7utes outside until the procession inside had finished. This evening, it was the combined choirs of King's (boys) and St. John's (men).
After the Evensong, we headed over to the Mill by the river for a couple of quick ones before the party. A little later, we walked across the Mathematical Bridge over to the Old Hall at Queen's and found the party fully underway with a cold buffet, three kinds of wines, and a live jazz band. William (Newman), Mik (Lamming), Tim (O'Shea), Rachel (Hewson), Richard (Harper), Abi (Sellen), Richard (Young), were just a few names of old friends that had reappeared for the party. Sadly, many of my closer friends (e.g. Bill (Buxton), Bill (Gaver), Elizabeth (Churchill), Moira (Minoughan), etc) weren't there. Too bad.
The party ended around 22 and we took our farewells and headed back to the guesthouse -- via The Fountain Inn, where the England - Argentina game was in full swing, but still with an even score. It eventually ended with Argentina winning after a series of penalty kicks, much to the congregated crowd's vocal disappointment.
On this lovely day, I had:
| | |
| --- | --- |
| | A pint of ??? and a half of Theakston's Old Peculiar (a delight) at The Mill. |
| | A pint of Old Peculiar (a pleasure) and a bottle of Old Rodger (a bit dull) at The Fountain Inn. |

Day 3: Wednesday, July 1, 1998
Cambridge
Our last full day in Cambridge, we first walked down Mill Rd to stop by the cb1 Cyber Cafe and check e-mail. Sure enough, there was some urgent business from work that needed attending to, but 40 minutes later we were on our way again. The destination this lunch was my old favorite, The Wrestler's Pub out on Newmarket Rd. Here, I had a most fabulous Tom Yum washed down with a couple of most excellent pints.
Afterwards, we walked by Midsummer Common across Jesus Green over to the river and rented a punt for about an hour. I did splendidly at the pole, if I may say so myself. Back on terra firma, we made a visit to the venerable Heffer's and more modern Dillon's bookstores, after which it was time for a few pub rounds again (Baron of Beef, Mitre, Pickerel Inn).
In need for some more tangible sustenance, we stopped by the Bengal Restaurant by the Grafton Centre for some very tasty Indian food before trying to join up with Allan at the Hogshead. Unfortunately, we were about 45 minutes late and he wasn't there anymore. So, we headed out to a couple of Mill Rd pubs instead to round off the evening.
| | |
| --- | --- |
| | A pint of Adnams Broadside (yummy) and a pint of the Old Speckled Hen (tasty) at The Wrestlers. |
| | A pint of ??? (disappointing) at The Baron of Beef. |
| | A pint of ??? (OK) at The Mitre. |
| | A pint of Theakston's Old Peculiar (delicious) at The Pickarel Inn. |
| | A pint of Greene King IPA at The Clarendon Arms. |
| | A partial pint of Nethergate's Old Growler (vile) at the Cambridge Blue. |
| | A partial pint of Top Hat (marginal) at Sailsbury Arms. |

Day 4: Thursday, July 2, 1998
Cambridge - London
After a quick cereal breakfast at the guesthouse, we were out by their checkout time at 10 and on our way to the train station (with a quick detour by Lloyd's Bank). A combined train ticket Cambridge-London + one-day travelcard cost around GBP 16. The train ride itself was rather unremarkable and we were at King's Cross station about 50 minutes later. The Celtic Hotel where I stayed last time was full, but Jenkins Hotel (found in Lonely Planet) still had a double without bath for GBP 59. Since it wasn't too far from the train station, we just walked over and checked in around noon.
In the afternoon, we had a quick lunch at a local pub and then proceeded to Leicester Square via Covent Garden and got a ticket for Art showing at Wyndham's Theatre the same evening (GBP 15ish). Then, we took the tube over to Westminster where we visited the Abbey and the Cabinet War Rooms.
| | |
| --- | --- |
| The Cabinet War Rooms' Entrance | The Main Meeting Room |
Then off to the Imperial War Museum at Lambeth for a very well done Trench and Blitz Experience (free after 16:00-ish). When it closed, we headed over to Bröderna Olsson's Garlic & Shots in SoHo, where we had a delicious, if somewhat hectic, garlic meal before rushing over to the play.
The play itself was good, but lacked a bit of sharpness in my humble opinion. Post-play, we had a couple of quick pints before missing the last tube home and having to walk to Bloomsbury instead.
This day I had:
| | |
| --- | --- |
| | A pint of John Smith Bitter (tasty) at ??? (by the hotel). |
| | A pint of ??? (Speckled Hen?, decent) at ??? (by the theatre). |
| | A pint of ??? (barely acceptable) at the Dog and Hare. |

Day 5: Friday, Saturday 3, 1998
London (City, Greenwich)
After a late rise, we dressed up and headed off to the City -- the real City, that is. I had in mind to try to find an old pub like the ones I remember stumbling by many years back, but couldn't find the right area and had to be satisfied with Taylor's Tavern dating back to 1752 instead.
After lunch, we took the Docklands Light Rail to Island Garden and continued on foot through the Greenwich foot tunnel to -- Greenwich. Here, we found the Royal Observatory and the Meridian and spent the afternoon learning more about the perils of navigation in the 17-18-hundreds.

On the way back, we stopped by the Tower Bridge just in time to see it being raised to let a sailing boat through. Unfortunately, this meant that we cam too late to buy 1/2 price tickets for this night's plays at Leicester Square. Never mind, we thought, and went over to Queen's to see if they had any tickets left to Elton John's Glasses. Sure enough, they had a pair -- a 1/2 price pair, even, that someone else had left behind because they couldn't use them.

The play was good, but a bit lacking again. Afterwards, we had a nice meal at a Singaporean/Indonesian/Malaysian restaurant called Melati before heading back to the room.



GMT @ 0°0'0''
| | |
| --- | --- |
| | A pint of bitter of unknown origin (v. good) at Taylor's Tavern. |
| | A half-can of Newcastle Brown Ale (dull) in the hotel room. |

Day 6: Saturday, July 4, 1998
London - Paris

Paris, where even the burger is Cordon Bleu
Where we check out of our hotel, make a too-brief visit to British Museum, take the Eurostar train to Paris, find ourselves another room at Hotel Taylor, have a prix-fixe (FRF 159) dinner at

Vieux Pressoir

, watch a horse trailer unload a -- camel! -- around midnight at the nightclub across the street, and where I won 7-6 at air hockey afterwards. "It was all luck," Hilari feebly excused herself.

We were back in bed around 2 am.

Day 7: Monday, July 5, 1998
Paris
Got up late, just before noon. Today's name is Art. (Hello, Art!) In honor thereof, we took the metro down to Quartier Latin, wolfed down a crêpe de fromage et champignon and headed over to Musée Orsay to reacquaint ourselves with Monet, Cézanne, Seurat, and all the others. Orsay is situated in an old train station...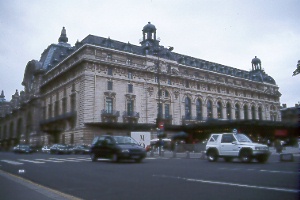 Musée d'Orsay
Then onwards to the Louvre. This being the first Sunday of the month, it meant free entrance and large crowds. OK, the crowds are always large here, so big difference. Not having too much time, we concentrated on the essentials: The dying slave by Michelangelo, the line next to Mona Lisa by Leonardo da Vinci, and a few others. Sooner than we know it, it was time to leave.
Onwards to Beaubour -- or Centre de l'Art et de la Culture George Pompidou, as it's officially called -- which was closed for restorations until 1999. Oh well, the wacky fountains next door where still going strong, though.
Feeling a bit peckish, we thought it might be time for dinner at an old favorite spot of Hilari's up in Montmartre -- which turned out to be closed too (what's up with these French?) -- so we found another little cozy spot instead where we enjoyed our evening meal à deux with no other tourists in sight.

Day 8: Monday, July 6, 1998
Paris - Dijon - Beaune
We got up too late to have breakfast again, but we nevertheless managed to catch the 12:18 TGV train from Paris Gare de Lyon to Dijon. The passage was swift and uneventful, although the other passengers seemed to look very strangely at our backpacks and jeans in the 1st class car. Once at Dijon, we continued with the 14:39 train from Dijon Ville to the little quaint town of Beaune. We had read that hotels and restaurants often were booked months in advance in the summer, so we were fully prepared to take the next train back to Dijon and find something there instead. Nevertheless and much to our delight, we found a room at the Hotel de France right at the train station for FFR 260 / night (double, + FFR 30 for breakfast). We took it of course, and once we had made ourselves comfortable, we went into the old town to check it out.
Beaune is famous not only for their food, but also for their wine tastings and because it was still relatively early in the afternoon, we had plenty of time for a couple of visits. The first one was Marché aux Vins (FFR 50) conveniently located right next to the tourist information office. Although the cave was relatively modern and uninspiring, they compensated by offering a whopping total of 18 different wines for sampling. We tried them all, of course. The last five wines were offered upstairs in the chapel and included a vintage 1983 xxx. Onwards to Caves Réunies du Couvent des Cordliers across the street with only six wines for tasting, but beautiful cellars dating back several hundred years.
All that wine had made us rather sleepy, so it was back to the hotel for an afternoon nap, etc. A couple of hours later, we are back on the streets, searching for a suitable venue for feasting. The one we decide on had a fancy name and an entrance through the wine cellars of a downtown merchant, but turned out to belong to the rather touristy restaurant next door, Restaurant Felix. Oh well, we were already there so we might as well enjoy it. I settled for the Menu Bourgongionne (FFR 139) that included jambon parsilie xxx, six escargot, bœuf Bourgongionne, fromage, and a sorbet de cassis. Unfortunately, they didn't have any house wine so we had to get a bottle instead. Rather haphazardly, I selected a 1997 Pot. de Brouilly (FFR 145) that actually turned out pretty nicely in the end.
Afterwards, we strolled around town for a few minutes until the English sound and light show ("spectacle") started at a quarter of midnight at the famous Hospise de Beaune. It was rather nice and illuminated [sic] the history of the hospice for about half an hour. A nice 0.5l of Pelforth (and a coffee for Hilari) later, we were ready to hit the hay around 2 am.

Day 9: Tuesday, July 7, 1998
Beaune (Countryside)
We slept late, but rather well, and got up around noon. Went out searching for food and found it at the Brasserie de la Gare next door. A sumptuous lunch including a plate of assorted cold meats and salads for entrée, jambon blanc et haricot verts for as a main course, wine, assorted cheeses, desert, and coffee cost only FFR 58 (USD 10), including taxes and service, of course.
Rightly stuffed, we decided -- or perhaps rather, I insisted and Hilari complied -- that we'd go out for a bike ride in the afternoon. There was a bike rental place just half a block from the hotel and the brasserie that lent us two 21-speed hybrids for a mere FFR 20 / hour. Off we went into the French countryside on a four-castle tour. It was really nice to get out of "town" for a few moments and see all the vast vineyards (and sample some too). Our trip took us through the villages of Chorey-les-Beaune, Aloxe-Corton, and Savigny-lès-Beaune and lasted about two hours.
Back in town, we hurried over to Caves Patriarche (Père & Fils), where we marveled at the vast underground wine caves dating back as far as the 13th century and hosting some 2 million bottles, including about 2000 bottles from the famous vintage of 1959. These will be opened on the third Sunday of November in the year 2000 and what won't be sold at the auction then will be provided for sampling afterwards. Mmm, I think I know when to return. The 12 varieties available now weren't too bad either, of course.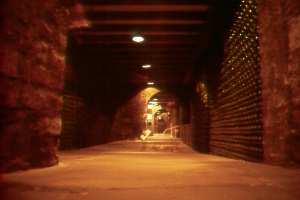 Les Caves Patriarche
Back at the hotel, we took a nap again until it was time for dinner around 20:30-21:00. This time, we ended up at the recommended La Grilladine and got rewarded by a superb meal. Mine was the five-course FFR 159 menu that included fois gras, fish in pastry with mussels, a minced chicken roll with crawfish, assorted cheeses, and a grape mousse tart. Add wine (FFR 69 for a football-and-Eiffel-tower-shaped 50 cl) and coffee (FFR 14) and you have an absolutely wonderful meal for a quite reasonable cost.
Having closed another restaurant as the last customers (at least in the room we were in), we finally waddled back to the hotel around midnight.

Day 10: Wednesday, July 8, 1998
Beaune - Lyon - Aix-les-Baines - St. Gervais - Chamonix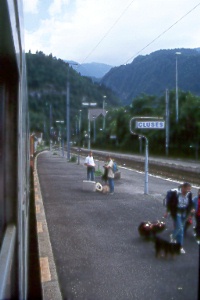 After a somewhat fitful night's sleep with many strange dreams (ah, that fois gras!), the alarm rang at 08:15 and woke us up. A quick packing, shower, and breakfast later, we were on the 09:36 "express" to Lyon with final destination Chamonix-Mt-Blanc in the French Alps. Hilari was tired because she hadn't slept very well during the night. I woke up feeling completely out of it too, but fairly well rested.
We arrive to Lyon-Perrache 15 minutes late, so we hurry off the train to find our connection -- only to get on the same train again. As it turned out, our old train had terminated in Lyon and was now relabeled as the one going to Aix-les-Bains. How convenient, albeit slightly confusing at first sight. We ended up sitting in the seats opposite to us, again in first class. Second class looked fine too, but much more crowded so we figured that we might as well use our Eurail tickets to their advantage.
Changed again at Aix-les-Bains with a quick intake of food (cured ham on baguette, yum!). This train will take us as far as St. Gervais, or as its known on my schedule, St-Gervais-les-Bains-Le-Fayet. Ugh, that's like a short novel in itself! We then have to change to a special narrow gage rail that will take us to our final destination of the day, Chamonix-Mont-Blanc. We're once again about 10 minutes late, but hopefully we'll make it in the end.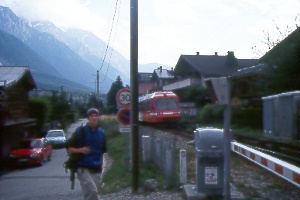 Narrow gage train to Chamonix
Ah, no problem. We arrived in time and the other train was there, clearly waiting for us on the same platform even. As a bonus, it was the Mont Blanc Express equipped with observation cars that allowed good views of the mountains towering above. There were many ohs and ahs on the half-hour trip to Chamonix but when we arrived, clouds were covering the mountains around us. There was a little tourist information booth at the train station, so we stopped by to ask for overnight suggestions. Something around 2 stars, I said, and immediately got shown about a half dozen places ranging in cost from around FRF 200-400. We settled for a cute looking place close to the train station for FRF 370 (with bath), Hotel Le Manoir.
After a quick rest, we went out exploring the little town and searching for a nice place to eat. After a good stroll, we ended up at Restaurant Sanjon which advertised a menu with Raclette (FRF 149) in a rustic atmosphere. The meal was delicious, albeit a bit on the cheesy side, but what do you expect? I also had a very unusual beer called Adelscott. It claimed to be brewed with "Whiskey malt" and had indeed a most intriguing Whiskey taste. Wacky, but tasty if a bit on the sweet side.
We were back at the hotel again around 10 pm, just in time to catch the second half of the France-Croatia World Cup semifinal. It was 0-0 as we arrived, but within two minutes of the second half, Croatia first scored, and then France much to the locals' relief. Close towards the end, France scored a second time and the excitement increased. There was a lot of tension in the room as Croatia almost made a goal in the last few trembling minutes, but when the referee finally blew the whistle, shouts of joy filled the room. Then everyone said goodnight and went to their rooms. Within minutes, the bar was empty.
Day 11: Thursday, July 9, 1998
Chamonix (Mont Blanc - Montenvers)
The next morning we got up around 09:30 and had a nice breakfast at the hotel. Out on town, we got a hiking map at the tourist information office and took the lift up to Aguille de Midi near Mont Blanc. The lift station sits some 2.8 km / 1.5 mi right above Chamonix and is the highest one in the world (3,800 m / 12,500 ft). The views are literally breathtaking, in part because of the incredibly rapid ascent and partly because of the thin air. Unfortunately, Mont Blanc herself was again shrouded in clouds, although you could have a good look of the glaciers below.
Both Hilari and I had problems acclimatizing to the altitude, but it was worse for her. After visits to the three viewing platforms and a quick lunch (cold meat plate, FRF 40), we descended to the midstation at Plan de l'Aguille and proceeded by foot across the Balcon du Nord over to Montenvers, a hike of 2 hours and 15 minutes according to our map, a time we managed to match exactly. The hike itself was very nice. It was mostly level and the weather was a bit chilly and cloudy, but not too bad. We weren't very well equipped -- me in sandals / walking shoes and Hilari in tennis shoes -- but the trail was pretty good.
We arrived at Montenvers just as they were about to close the ice cave and the left that took you to it. We managed to squeeze in a restroom break and then it was down (!) to the man made cave in the sea of ice. Filled with anticipation, we entered the hole in the bluish ice -- and soon found ourselves on our way out again! The whole cave was no more than 20-30 m into the glacier and then looped back out again. In between, there were about 5-6 sculptures made in the ice itself. Neat, but hardly the 8th miracle in the world. Altogether, we spent maybe 15 minutes in there before heading up again. Feeling a bit worn from our hike, we decided on taking the cogwheel train down instead of hiking. A good choice, considering how far it turned out to be in the end and how sore my legs and Hilari's feet were the next day.
In the evening, and after a quick pint of hand-pumped Bombardier at an amazingly British pub called Queen Vic, we set out to find a restaurant called Le Cheval de Fer -- Chamonix' best place for the traditional Savoyard Fondue according to our guidebook. After some tracking back and forth we found it, and sure, it may very well have been a good fondue place a some point in time -- not recently, though, as the building clearly had been closed for some time and in dire need of repairs. Instead, we settled on the Brasserie de la Gare that advertised a Menu Savoyarde for only FFR 79. It was good, but cheesed us out pretty badly to the point that I had to skip the traditional after dinner cheese plate and couldn't even look at the stuff for several days to come. Well, at least one.
We rounded off the evening with a glass of Pelforth Brune at a strange self-acclaimed Irish pub and yet a couple of pints back at the Vic. Nicely sauced, we were back at the hotel again around half past midnight.
| | |
| --- | --- |
| | A pint of Charles Wells' Bombardier (nice) at the Queen Vic. |
| | A bottle of Pelforth Brune (sweet, but good) at the Irish Pub. |
| | A pint of Hoegarden's wheat beer (tasty) and a half a pint each of Charles Wells' Dragoon (OK, 6.5%) and Extra Strong Lager (dull, 8.8%), also at Queen Vic. |
Day 12: Friday, July 10, 1998
Chamonix - Martigny - Brig - Basel - København
Oh, that cheese! I was up at around 7 am for a visit to the head and followed that with a Rolaid to ease my overwhelmed gastric system. After a fitful couple of hours, the alarm went off at 08:45 and it was time to get up for real. I didn't have any really good timetables for Switzerland, but if my rough calculations were right and given a bit of luck, we should be able to take the 09:53 train from Chamonix to Martigny, swing by Brig and Spiez, and still arrive to Basel in time for the 17:46 sleeper to København.
And yes, luck was with us. As it turned out, the connecting train from Martigny to Brig was a direct one; likewise for the Brig - Basel leg. That should give us ample time to have lunch in Brig and still arrive to Basel in time to book a suitable overnight berth.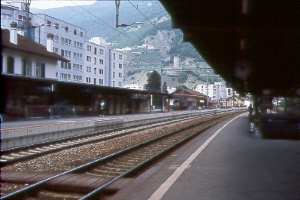 Martigny
The scenery on the way was outright spectacular, albeit a bit muted by the low hanging clouds. Hilari wasn't feeling too well either (damn that cheese), so the first stretch on the windy narrow gauge rail was particularly trying for her. Nevertheless, we arrived to Brig without any problems and a bit of tomato soup helped her feel good again.
We arrived to Basel in plenty of time -- 45 minutes. So we strolled over to the ticket booths and waited at the (short) line. When we got to the front, we told the cashier that we wanted a sleeping car to København. He looked a us, leafed through his folders and then told us that no, he couldn't do that. We'd have to go to the information and reservation line behind us. Ugh. So we turned around and entered the next line. There were only 3-4 couples in front of us, but oh, did they have many questions. It took forever until it was our time, and when we finally got there, we were told that no, they couldn't sell us any sleeping car tickets because it was too close to the train's departure (20-30 min). Duh.
So, it was off to the tracks for us to check with the conductor for any last-minute free compartments. The train wasn't there yet, and I was just about to run back out and get some more cash when it rolled in. Once again, we were in luck: Yes, he had a compartment available, and yes, it had two beds, but it was the last one and a "deluxe" one at that, available for the facile price of DM 250 or about $156. Well, we don't really have much of a choice, so sure, great, we'll take it.
Actually, the compartment is great and in retrospect, I'm really happy that it was the only one available. It's the most luxurious sleeper I've ever traveled in: In addition to the two spacious bunk beds, there is a table with two chairs, closet with coat hangers, a was basin, a toilet, and even a private shower! Oh, and a little phone that we can use to call "room service" for snacks and drinks. The view is great with two side windows and two skylights. We settle in and order some food (Gulasch, Nürenberg sausages, and leberkäse -- I was hungry) and drink (weiss bier), and then settle in to watch the now German countryside pass by. Ah, what a way to travel!
Day 13: Saturday, July 11, 1998
København - Malmö - Lund - Hässleholm - Tormestorp
We wake up around 8 am as we rolled out of Odense in Denmark. Outside, the skies were gray and the ground damp and cold looking. What kind of weather was this that my neighbor country greeted its long lost son with? Oh well, at least in our little compartment we were snug and cozy. Breakfast arrived as I was in the shower: Coffee, bread, croissant, jam, honey, ham, and cheese. Yum!
The weather was still gray when we arrived to København just before 10 am. I needed to call my friend Martin in Lund to tell him when we'd be there, so I went over to find a payphone. It didn't tell me what coins it accepted, so I just stuffed a few old 1 kr and 25 øre that I had with me on the funky pay "rail." Then I called the number. The phone rang a couple of times, then an answering machine took over, coins started falling through the phone, and a rapid beep started, all at the same time. Then the connection was broken. I picked up my rejected coins and tried again, this time only with 1 kr. Same effect. Whatever. He was apparently not there anyway, so I had to try again later.
I started looking around the train station for an information booth that could tell me where the so-called flying boats to Malmö departed from and what bus would take me there. No luck. The travel agency at the station was closed and I couldn't find any public displays. A green "i" pointed out through the main exits, so we followed it. It then led us up a block on the street outside and took us to a tourist information office across the street. There was a lot of people there, but I managed to find a free map with ferries and (some) bus routes marked on it. Back at the station again, we searched hard and heavy for 26E. When we finally found its stop and walked over to it, it turned out only to run on weekdays. And there was no other bus going to the ferry terminals. Oops. After some more searching, we found a substitute in bus #1 instead. According to the map, it looked like it would take us to within a few blocks from where we wanted to go -- that's close enough. Back the bus stops we found that it went in two directions. After yet some more thinking, we decided that we probably should be taking the southbound one. The time was now about 10:40 and the next ferry was due to leave at 11:00. Fortunately, there was supposed to be a bus leaving within a few minutes... or perhaps it already left? Whatever the case, one finally arrived at 10:52 and a very grumpy bus driver very grumpily accepted my apparently very outdated coins for the fare (DKK 11 / USD 1.70). I don't know what's going on, but it looks like the whole of Europe is changing their coins and notes -- and that just a few years before they'll have to change it again, this time to the euro. In any case, he did take them in the end even though they didn't fit in his machine. At least that explained why I had been having such a problem at the payphone earlier.
We arrived to the ferry terminal about 11:10. The next boat was due to depart at noon, so we bought our tickets (DKK 77 / USD 12 pp w/Eurail discount) and settled down to wait. I tried to call Martin again, and managed to leave a message on his answering machine this time. I also tried his cell phone, but not even that had got any answer. At around 11:40, they told us that we would be about half an hour delayed due to technical problems. Well, considering that "technical problems" often eat up more time than you expect, I thought it would be better to switch to the other flying boat company, Pilen. I got our money back and we quickly trekked the 200 m up to the next terminal. It was full of people, probably some from our delayed boat. Fortunately, the line moved pretty quickly and much to my surprise, I got two tickets for almost half the price: Only DKK 40 / USD 6 pp -- and that's without any extra discount! Can't really complain about that. The passage was swift and smooth and we arrived to Malmö on time about 45 minutes later.
In Malmö, I try once again to call Martin, but to no avail. Where is that man? At his insisting, I had said that I would try to stop by this weekend, but now he is nowhere to find. Oh well, c'est la vie. We stop at the train station restaurant instead and have a nice Swedish stekt råbiff med kryddsmör och pommes frites, hamburger meat mixed with beets and capers, fried and served with herbed butter and fries. Pretty tasty, even Hilari who had prepared herself to something much more bland thinks so.
After lunch, I find that we've just missed our connection to Hässleholm where my parents live. Ugh. I thought the trains just to go much more often, but it's now going to be two hours until the next one. After some running around, we take a local pågatåg to Lund instead -- Martin or no Martin. Lund is a cute old university town only about 10-15 minutes from Malmö, and as it happens, also on the way to Hässleholm. So, we go to Lund, put our stuff in lockers at the station, and spend a nice hour-and-a-half walking around the cobblestone streets of central Lund and having a coffee at a student café. We consider stopping by Martin's apartment to leave a note on his door but decide against it in the end.
When arrive to Hässleholm at 16:16, my parents are already there waiting for us. It's good to see them again. Last time I was here was just about a year ago in August of 1997. That time, it was my aunt's 90th birthday; this year, it's my dad's 85th. He's getting up there, but fortunately, they're very long lived on his side of the family.
The car ride to our little village of Tormestorp 6 km outside of Hässleholm goes quickly. They have once again changed the road, this time there a new connecting road and an underpass that take us under the railroad into the village. Both of the two old level crossings had been closed because of the new, high speed X2000 trains, and two new entries into the village been made. The other one was made last year in the far northern end of the village and leads out to another, brand new ring road around Hässleholm. Amazing all the things that happen when you leave the country for a few years.
Being back "home" is eerily familiar. The walkway to the front door has gotten new material and the driveway has been decorated with new flowers, but the rest seems very much the same as last time I came by a year ago. My parents look the same as well...
The first thing that happens when we arrive is that we're offered food and coffee, of course.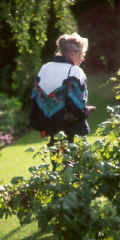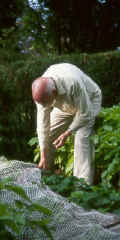 Greta and Harry in their beloved garden
I take Hilari on a tour through the house and garden.
Days 14 - 15: Sunday - Monday, July 12 - 13, 1998
Tormestorp (Finjasjön, Hovdala)
The next two days float into each other. We sleep, eat, wash our dirty clothes, and basically just rest. It's nice to be back "home," although at the same time strange because I after all don't live there anymore. Hearing about the neighbors and relatives feels particularly odd -- it's a different world which I find myself hard to relate to. Sometimes, I wonder if I'm stuck in a time warp, except all the old neighbors appear to have died or otherwise moved away.
Most of this is told over food -- breakfast consisting of yogurt, filmjölk (buttermilk), and home made müsli followed by cheese, bread, and coffee -- or lunch... ("hot chicken".)
Took a walk through the woods and picked mushrooms (and picked up about 4 ticks / person).
Watched France beat Brazil in the World Cup while munching on renskav and the mushrooms we picked earlier.
Lunch of ärtsoppa och pannkakor
Visit to Finjasjön, Hovdala slott and surroundings.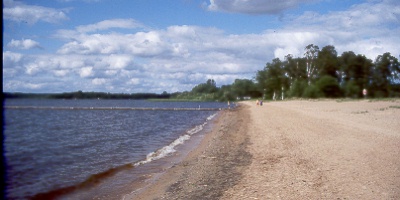 Lake Finjasjön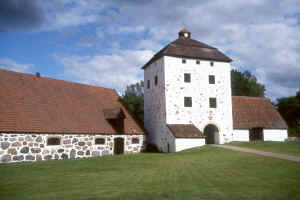 Hovdala slott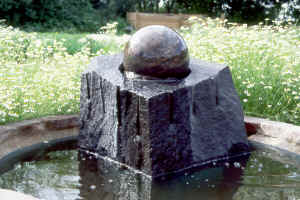 The myserious spherical fountain
Watched slides from Paris (1951), Chamonix (1967), and Lappland (1969).
Late night gravlax.
Day 16: Tuesday, July 14, 1998
Tormestorp - Hässleholm - Stockholm
On the third morning, we wave my parents farewell as we board the high speed X2000 train to Stockholm. Mmm, first class again! We had to buy supplementary tickets for SEK 150 each to get on it, but since the price was the same for first and second class, we opted for first. We're heading up to Stockholm to visit my friend Andreas and sample the delights of the capital of Sweden for a couple of days. The train is ten minutes late when it leaves the station and it becomes worse as we tug along -- soon, we're 30 minutes behind schedule and we'll be a full hour late before we arrive to our destination. That's a delay of about 25%! The reason? Remember that nasty train accident in Germany a couple of weeks ago? Well, the trains aren't exactly the same but they found the same kind of weakness in the wheels on the Swedish trains, so they've slowed them down to 160 km/h (100 mph) until they've had time to replace them all. They reckon that will be done by September. At several dozen departures a day, that's an awful lot of delayed trains, and, one has to presume, missed connections.
Lunch on the train ("Presto" sandwich)
Andreas was at the station when we arrived and together we headed back to his apartment to dump our stuff. Having come to the US only a month before myself, he now spends part of the year in Berkeley and the other part in Sweden -- mostly Stockholm and his family's old summer house on Sandhamn in the Swedish archipelago. His apartment is on Hagagatan in Vasastan, very central in other words. It's an old "3 rooms and a kitchen" (1-2 BR / 1 BA) on the fifth floor of an old house built in 1906.
Dinner at Restaurant Britannia (SEK 360 / USD 45 for 3).
Walk through late night Stockholm.
Drink at Zum Franziskaner at Gamla Stan (SEK 60)
Slept at Andreas apartment.
Day 17: Wednesday, July 15, 1998
Stockholm
Andreas fully equipped with backpack, side bag, tripod.
Lunch @ Melanders fiskrestaurang (fisksoppa, SEK 82)
Djurgårdsfärgan från Slussen till Djurgården (SEK 20)
Wasa museum (SEK 50), tripod war.
Dinner (pizza, SEK 65) @ Drottning Kristina, Gamla Stan after a long trek.
Ice cream (lakrits & ägglikör i nybakad våffla, SEK 24)
Drink @ Stampen (SEK 60)
Day 18: Thursday, July 16, 1998
Browsed the delicious little tidbits at Hötorgshallen
Visit to DesignTorget at Kurturhuset
Got a whole bunch of cheese slicers @ Åhléns and Kitchen
Bought really cool snaps glasses and ice cubes made of täljsten.
Bus 44 to Skansen, visit to old houses, saw reindeer, wolf, wolverine, seals, etc.
Had an outrageously excessive but very delicious dinner at Värdshuset Ulla Winblad on Djurgården (SEK 1700 / $212 for 3). Waddled back home around midnight.
(Read Ofredsår by Peter Englund)
Day 19: Friday, July 17, 1998
Stockholm - Hässleholm - Tormestorp
Train from Stockholm to Hässleholm, only 30 min late. Bought lunch at the train station. Free coffee on the train. Visited the local supermarket Maxi for supplies. Went home and had xxx.
Day 20: Saturday, July 18, 1998
Tormestorp (Hässleholm)
Drove into town and searched for the book. Found two other for my parents instead, plus big bouquet of flowers and decorative fat garden frog.
Day 21: Sunday, July 19, 1998
Tormestorp
Harry's birthday. Brought in breakfast and presents in bed. The local priest arrived around 11:30 before we had a chance to have our early lunch. She stayed and talked for about an hour. We drove into town and picked up the "ginormous" food tray with a couple of meats, cheeses, and lots of exotic fruits. Britt arrived first at 14:15 followed by Einar at 14:25. Then the rest of them about past two.
Day 22: Monday, July 20, 1998
Tormestorp - Hässleholm - Malmö - København
Time to say goodbye to my parents and head west. Bye, bye, mother. Bye, bye, father. See you next year. As I saw them disappear in the distance as the train pulled out of the station, something warm and moist swelled up my eyes. Although it was nice to be on the road again, I realized how sad I was to leave them and much I already missed them. After all, they are my family and this is where I have my roots. To make things a bit more complicated, I can't stand the little village in which they live or the town next door. So, it's with a mix of sadness and relief that I go away.
We arrive in Malmö on time but after having waited too long in line to make a sleeper reservation for later tonight, we have to do a mad dash for the flying boats that will take us over to København. In our haste it took us a while to find the ticket office too -- they had strategically hidden it on the opposite side of the street -- but we made it with minutes to spare in the end.
As the boat left the pier, the sun came out and it suddenly became very warm. Ahh, this is what a Scandinavian is, or should be, all about! The sea was blue and everyone onboard seemed to be on their way to some faraway and exotic destination. There were backpacks galore and soon the cans of Tuborg Guld came out. I joined too, accompanied by a traditional Danish red hot dog -- rød pølse -- with sharp mustard and spicy ketchup. Yum! The sun in my face and the wind in my hair, I felt free and liberated and ready to take on a new adventure... although we were in reality on our way back. Ah, c'est la vie!
In København, it was a short wait before 26E whisked us over to the central train station. There, we put our baggage into lockers that had the simplest UI that I've ever seen: Go first find yourself a free locker designated by an open door and a green light. After putting all your stuff into it, you just close the door which locks automatically. You then go over to the control panel that serves your "block." It automatically shows you your locker number (the last one closed) and how much you owe them. After depositing the designated amount (DKK 15 in our case, ~$2.50), the machine prints a card which has your locker number on it and a magnetic strip on the back that will open it when you return. That's all! No need to worry about duplicated keys or forgetting your locker number. Cool.
I wanted to revisit an old childhood favorite, so after we had purchased our sleeper (DKK 648 / USD 100 for 2) from København to Köln and seat reservation / supplement (DKK 129 / USD 20) on the Thalys train from Köln to Bruxelles, we headed across the street for a few hours of fun at København's famous amusement park Tivoli.
I think it shrunk. It's either that or I'm bigger now, but it's still fun to be there. Alas, the old roller coaster that used to scare me as a kid seems to be gone and I couldn't find the funny house. We tried a couple of attractions and played a few games (I won first price in a horse race once), but soon enough it was time to get something to eat before we headed back to our train. We got a good Kæmpe Luxus Burger + Wienerschnitzel (DKK 55 each) at Cafe Paletten with another tasty Danish Tuborg Grøn to quench my thirst. The meal was enjoyed in a nice outdoor seating next to a fountain. This was just one of many dining establishments in the park. Some of the more fanciful ones included a Viking hall, water mill, and floating (?) galleon. Their menus looked pretty good too.
Back at the station we settle down in the same kind of sleeping car we had last week, although this time we have a standard compartment instead of the "deluxe" one. Sure enough, as I suspected before, it turns out to be pretty much half of the other one in size. The beds are the same and there is a wash basin cum corner table, but the separate seats, toilet, and shower are gone. The train is pretty empty, though, so the conductor lets us use the compartment next to us to sit in since it hasn't been converted to beds yet. We hang around there for a while watching the Danish landscape pass by before retiring to our compartment around 10 pm. We're going to have to change trains in Köln early tomorrow morning, so we'll have to go to bed soon if we want a decent night's sleep. Before then, though, we decide to open the bottle of Rioja wine my relatives had given me and make a farewell toast to "home." Bye, bye Scandinavia. Take care. See you next year.
Day 23: Tuesday, July 21, 1998
Köln - Bruxelles - London - Gatwick
Bleep, bleep. Bleep, bleep. Uh? Bleep, bleep. What a god-awful noise! Where is it coming from? Bleep, bleep. Ah, the telephone! Bleep, bleep. Hello? Gute morgen, breakfast in 10 minutes. Danke. I hung up. It's six-thirty in the morning and we'll be arriving in Köln in about an hour. Although the bed was fine, I didn't sleep all that well. I woke up around 5 am, tossed and turned a bit, and had only just fallen back asleep again when our industrious conductor woke us up. Ah well, there will be more nap time on the train from Köln to Bruxelles.
...if we will be able to sleep. This coffee is pretty strong! Breakfast is conveniently served in the adjoining compartment and consist of coffee and a salami sandwich. The sugar bag and cream tin both boasts of Columbia Kaffee and sports the familiar faces of a South American man and his donkey. This is the same coffee that I've seen served at many places back at my "other" home in the US, but oh boy what a difference! Whereas the other stuff merely seems to consist of brown colored water, this is coffee strong enough to make your spoon stand straight -- or dissolve it if made of a weaker metal.
It's barely 8 in the morning, but it's already hot in Köln. I think today will be a shorts day. A can of Schwip Schwap Cola-Mix (DEM 1.50 / USD 1) helps keeping me cool.
Belgium was nice. The Belgian beer were even better. We arrived to Bruxelles Gare du Midi at 10:35 and spent the next half hour trying to figure out a) where we were, b) where we were going, c) how much a Belgian franc was worth, c) where we could get some, d) how we were to get there, and e) how much it would cost. Eventually, we figured out that a) we were at the southernmost "central" station (as opposed to Gare du Nord or Gare Central), b) we wanted to go to the central square, Grand Palace, c) there are currently about 30-35 BEF to the USD, d) the tram and metro rules, and e) an unlimited day pass is a good deal at 125 BEF / day (as long as you make four trips or more).
So we first found our way to the nearest ATM (one block north of the train station), bought two day passes, entered the subterranean tram station, and took line 13 to the Bourse, where we walked on to the Grand Place. By 11:30 we were there and ready to explore the two rooms of the Belgian beer museum (one half pint included in the price, BEF 100 / USD 3). By 12:30, we were ready to continue to the Hotel du Ville to get a quick impression of the history of Bruxelles before they closed at 1 pm. You see, we arrived on July 21 which turned out to be the Belgian National Day. Now, had we actually checked the Shoestring guide, we would have found this out in advance. But did we? Noooo, of course not. (Or rather: But did I? Noooo, etc.)
Anyway, the day wasn't a complete disaster. After the town hall, we walked around for a while looking for a place to eat (wrong direction). Rediscovered our bearings, walked some more, and finally ended up in a tourist trap on our way to our real destination. The TT charged BEF 495 / USD 15 for a three course menu + aperitif, not a bad price considering the others hovering around BEF 600 or so. I ordered a fish soup + mussels and Hilari got prawns in garlic + medallions of sole. The starter arrived fast enough and after a reminder, we even got our aperitif too (Kir, or an approximation thereof).
After lunch, we continued to the chocolate museum (BEF 200 pp, yes, including a taste sample). And after that, Mannekin Pis and a visit to a tavern nearby where we sampled various varieties of Belgian specialty beer -- Carolans d'Or, Delirium Tremens, Faro, etc. After that, everything is hazy until we arrived in England on the Eurostar. All I can say for sure is that the train station had tasty beers too and the Leffe on the train wasn't too bad either.
Back in the UK, we take the express train to Gatwick airport and find ourselves a room at Le Meridien for the facile price of GBP 119 / USD 196. Pretty pricey, but it was late and we were tired and the pubs were about to close. The pub, actually, since there only was one at the airport. I headed over there for a ceremonial last pint or two while Hilari relaxed at the room. To my pleasure, they had three (hand pumped) real ales, so I tried a little of each for my last few remaining pounds.
| | |
| --- | --- |
| | A glass of indeterminate brown Belgian beer (not bad) at the Beer Museum in Bruxelles. |
| | A glass of Stella Artois (unexciting) at the lunch restaurant. |
| | A bottle of Carolans d'Or (tasty) and Delirium Tremens (tasty too) at the tavern near Mannken Pis. |
| | A bottle of Leffe (very tasty) on the Eurostar train from Bruxelles to London. |
| | A pint of Fuller's London Pride (nice) and a half each of Bass (OK) and Worthington's Bitter (acceptable) at The Dickens at Gatwick. |
Day 24: Wednesday, July 22, 1998
Gatwick - Huston - San Francisco
I'm so tired... again. The alarm was set for 7 am, but I woke up 10 minutes earlier by myself, so I just turned the alarms off and took a shower. Oh boy, I really don't want to go back. In fact, it feels like I'm already there and I don't like it. The hotel is nice, but mindbogglingly dull in that oh-so-familiar style of thousands of other Sheratons and Hiltons around the world. Sure, it's comfortable and nicely decorated, but d-u-l-l. Oh well, it was only for a night.
We get packed and check out a little before 8. Then, it's the monorail to the south terminal and 20 questions at the check-in line. Yes, I packed my bags myself, no, noone else has had access to them, and no, I'm not carrying any weapons. Check-in reveals that the flight is full (surprise, surprise) and the only adjacent seats they have for us are 18E and F, which means smack in the center of the middle 5-seat cluster. Oh boy, oh joy. On top of everything else, it turns out that the row before the row in front of us is full of screaming kids. Needless to say, it was a long flight.
Immigration in Huston was fairly uneventful except for the part where they insisted on X-raying my luggage after I admitted carrying (oh horror) a loaf of bread in my baggage. Apparently, they decided that it was harmless after all, because they never bothered to have me open my case. Go figure.
Huston is an ugly airport otherwise. Tired and jet lagged, we stroll around the airport for about two hours before our connecting flight is due to leave. I have a pretty disgusting burrito and a somewhat more pleasant ice cream. I'm completely out of it and pretty cranky, though. On our way to the plane, I find that Microsoft has gone down 4 1/2 in the preceding day too. Oh joy.
Text and pictures copyright © 1998, Lennart Lövstrand. All rights reserved.