The Thursday Salon's First International Pub Crawl, Cambridge-London-Paris.
April 22-27, 1998.

Day 0, Wednesday April 22, 1998.
Our trip starts at 14:30 when our prearranged limo from Krystal Limousine in San Jose comes and picks Dianna, Mike, Suzanne, and myself up.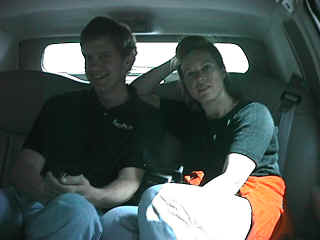 Mike and Suzanne
We arrive at San Francisco International Airport about half past three where we check in and meet up with Corby and Nedim, who arrived separately. Our flight takes off without a hitch and ho-ho-ho, off we go!

Day 1, Thursday, April 23, 1998.
We arrive at Heathrow a little after 11 am, but that turns out to be just barely too late to catch the 12:20 bus, I mean coach, to Cambridge. Never mind, a nice wait at the smoke filled "cafe" by the bus station only adds to the excitement of finally being back in the UK.
In Cambridge, we take a leisurely stroll from the Drummer St bus station to the Gonville Hotel where we have booked rooms (at £101/twin). I can't believe I'm back. Everything is so strange, yet so familiar. It's hard to believe I used to live here, it's as if it was another person somehow.
Over by the hotel, we take a quick shower and then prepare to meet the other members of the Thursday Salon who already are here. William used to live here as well and is came back here about two weeks ago; JoDee (who also used to live here) and Steve should have arrived the day before, and Toby has been visiting relatives and should have arrived earlier the same day. Indeed, at our hotel is a note waiting for us from the others, saying that they'll be there at 5 pm. OK, I had hoped for a quick nap, but there's no rest for the wicked...
Toby shows up a little after 5, but there is no sign of JoDee or Steve, so around 5:45 pm, we leave a message behind and eagerly continue over to the Free Press, where we have our first celebratory pint of the evening. Mine is a nice pint of Greene King IPA. Ahh, it tastes just like I remembered it! Bliss, I have returned...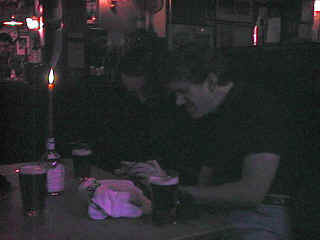 Corby and Mike checking out digital pictures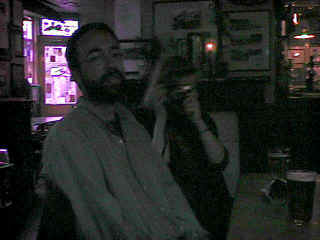 Nedim shyes away while Suzanne snaps a picture
After about an hour at the Free Press and still now sign of JoDee or Steve, we go around the corner to William's mother, Audrey's, house where we're invited for dinner -- all 10 of us. She's lives in a really quaint old house on Eden Street in the middle of the Kite area -- not far from where I used to live -- and is serving us a wonderful curry. Eventually, we find out that JoDee and Steve got to our hotel a little after we had left, asked around, but never found our note. Bummer.
After dinner, we steer over to a more modern example of British pubdom, the Ancient Druids that despite of its name has nothing "ancient" or "druidic" about it. The best thing you can say about it is that they used to brew their own beer here, but apparently this stopped a couple of years ago. Nevertheless, they are a Charles Wells pub, so I got another long sought after pint of Bombardier here. Alas, much to my disappointment, it was a far cry from how I remembered it. Oh well.

Everyone at The Ancient Druids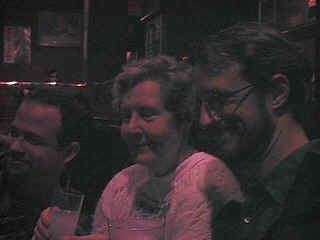 Toby, Audrey, and Corby posing
From the Druids, we continued over to yet another old time favorite, St. Rhadegund on King Street. This tiny little shoebox of a pub has changed ownership more times than I can remember, but they still has mange to serve good beer despite all the changes. This time was no different, and I fully enjoyed my pint of Fullers ESB.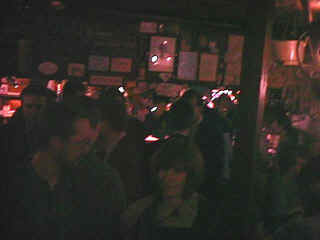 Corby and Dianna at St. Rhadagund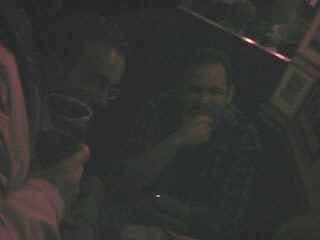 Nedim and Toby, still at St. R.
The evening ended at The Champion of The Thames further down the street, one of the oldest pubs on the street. A good pint of Greene King XB rounded the evening off quite nicely.

Day 2, Friday, April 24, 1998.
The first real day of vacation. I begun by moving all my stuff from the Gonville Hotel to the Cricketers pub where Toby was staying. The next morning, we were going to catch the early morning train to London so I thought it would be easier if we got up together. Besides, they're also £30 cheaper than the Gonville -- not an entirely undesirable attribute.

View from The Cricketers' window
The Cricketers is also very close to where I used to live on 12 Orchard Street. This street must be one of the prettiest in Cambridge, but I am of course a little bit biased. To my horror, I found that they had cut down the old rose tree that used to frame the door, tore up the big old lavender bush that used to be next to it, and repainted the door from red to black. Oh, what were they thinking? Now, it just looks like a little drab house. Pity.
From my old house, it's only a 5 minute walk to my old job at Rank Xerox EuroPARC -- or, as it now is called, the Xerox Research Centre Europe or XRCE. Xerox Corp bought out Rank a couple of years ago, so it's now fully owned by the American copier giant. Here, I met with an old friend, Christine King. She's one of the few people still working at EuroPARC, uh, I mean XRCE. The only other two old-timers around were Bob Anderson and Mike Molloy. Allan MacLean, William Newman, and Mik Lamming are still working there too, but they were out of the country for some conference.
Christine and I took her little car and drove over to my very most favorite pub in the world: The Wrestlers on Newmarket Road in Cambridge. Not only do they have some very excellent ales on tap, but they also serve the best Thai food I've had anywhere -- including Thailand. To celebrate old times, I had my favorite: Green Chicken Curry and wolfed it down with the help of a pint of Adnam's Broadside and the Speckled Hen. Ahh....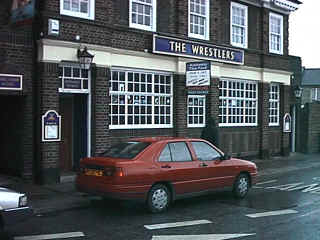 The Wrestlers Pub on Newmarket Road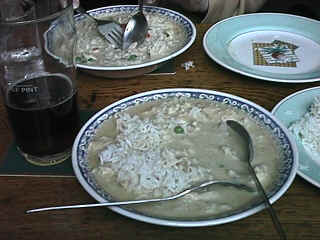 The best Thai food in the world!
On the way back, my friends noticed a sign saying "Humps for 500 yards" and just had to take a picture of it.
In the evening, we were supposed to meet up at the Gonville again, but when the time came, some in the group found themselves at the other end of town and sent Corby to gather those who were at the Gonville and bring them over. Which he did, but only after I managed to gulp down a quick half-pint of SOS at Live and Let Live, and he, Mike, and Suzanne managed to stop by the cb1 Cyber Cafe on Mill Rd to read mail, book hotel rooms, and send in moves for a networked game they're playing. While waiting for them, I started talking to the guy behind the counter who seemed uncunningly familiar. Well, what do you know! He turned out to be Damien, the son of William Newman who I used to work with at Euro, uh, XRCE. I had indeed met him before, but that must have been 7-8 years ago when he probably was in his teens. Oh, it's a small world after all.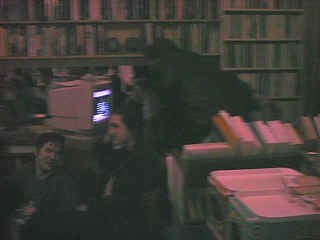 Corby, Mike, and Suzanne at cb1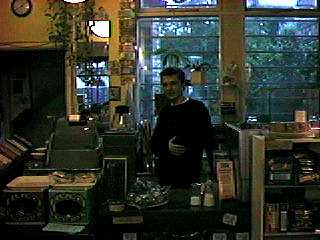 Daimon at cb1
When the 8 o'clock deadline finally was over, we hurried over to meet the rest of the Thursday crowd at The Mitre. Alas, I am embarrassed to say that I don't remember what I had there. Still, it most certainly was good!
From The Mitre over to Caffe Uno for a bite to eat and a bottle or two of Italian red wine to drink. After dinner, onwards to probably one of the oldest pubs in Cambridge, The Pickerel Inn by the Cam. Here, both JoDee and I simultaneously discovered that they had Theakston's Old Peculiar on tap and started an impromptu dance in celebration. Ah, O.P. -- on tap, no less! This is such a lovely beer that I had to have two pints, which alas meant that we never got any further this evening. Oh well, it was well worth it and a most excellent way to end our stay in Cambridge.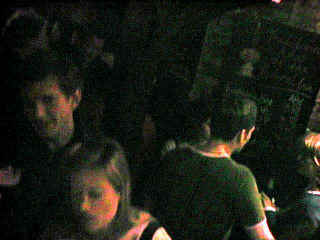 Mike and Suzanne at The Pickerel Inn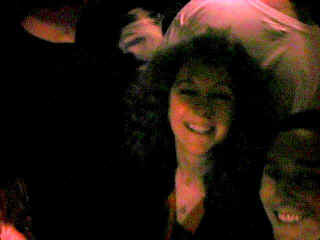 JoDee and (a little of) Steve at The Pickerel Inn

Day 3, Saturday, April 25, 1998.
The next morning, Toby and I rose around 7 am, showered -- or at least tried to. The Cricketers' plumbing was most British in that way that, well, leaves some room for improvement, shall we say. Instead, I took a little splash bath, we got down and had the typical British breakfast, called for a cab, and arrived at the train station just after 8 am with minutes to spare, where we met up with Mike and Suzanne who had decided to join us at the last minute. A ticket to London cost about £13 and the ride took just under the hour. In London, we jumped into another cab which took us down to Waterloo International where we boarded the Eurostar train to Paris, France.
Oh la la, what a train ride that was! The Eurostar train takes about 3 hours to get from London to Paris, during which time it reaches a top speed of 300 km/h (185 mph) -- that's faster than most small airplanes! Of course, this is on the French side. On the British side, we never seemed to get any faster than about 100 km/h (60 mph). That's because the train tracks still haven't been upgraded to accommodate faster trains on their side. Maybe some time... The trip under the chunnel itself only took 20 minutes. Quite a difference from the 2 hour ferries!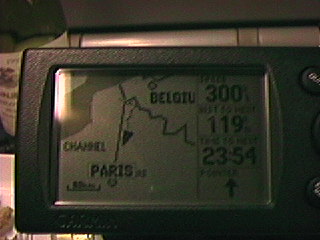 Onboard the Eurostar at 300 km/h (185 mph)
In Paris, we managed to meet up with Caroline and Christof at the Hard Rock Cafe. Caroline was an old friend of Toby's, who he met during a sailing trip a few years a back. We also tried to meet up with Antoine, who Toby, Mike, and I used to work with at NeXT in California, but he was out of town for the weekend.
Since we have enough Hard Rock Cafes in the country we live in, we quickly left and headed down the boulevard until we found La Taverna, which seemed nice and French enough. I think we all ended up having the prix fixe menu, which, in my case, included 6 oysters, a porc roti with ratatouille, a creme caramel, and a half bottle of Bordeaux.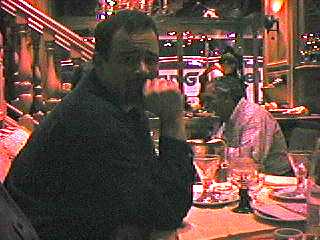 Toby at La Taverna, Paris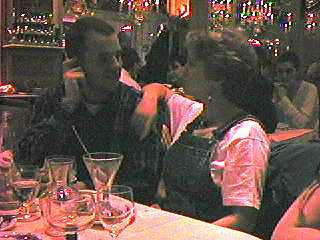 Toby's friends Christof and Caroline
Although at least I was pretty knackered by now, we continued down the Quartier Latin for a last drink of the evening. Well, my last at least -- after a nice bottle of Pelforth I bid good night to the others and headed back to our hotel. I arrived back around 1:30 am with the rest of them stumbling home around 3 or 4, I think.

Ending the evening at Quartier Latin

Day 4, Sunday, April 26, 1998.
The next day, I take the train back to London after a quick morning cafe lait et tartine and a visit to Sacre Coeur. In London, I meet up with Dianna, Corby, and Nedim after the showing of Arts that they had gone to. We have our final dinner at a place called Cafe Rouge in SoHo and finish the evening off with a rather tasty pint at a pub around the corner. And that was it, our final day was over and the trip gone to its end.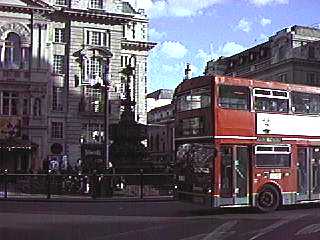 Piccadilly Circus, London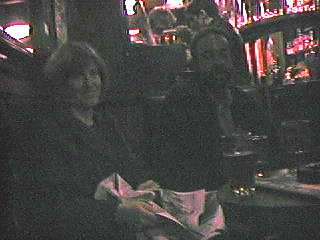 A final drink in SoHo: Dianna and Nedim

Day 5, Monday, April 27, 1998.
Early the next morning, Nedim and I take the 6 am tube to Heathrow where we meet Dianna for our 9 am flight back to San Francisco. The rest, as they say, is history.