Southbound Sails

San Francisco to Ensenada, Mexico
December 12, 1997 to January 1, 1998

By Lennart Lövstrand
On December 13, 1997, the 57-foot sailing vessel Sea Star casted off its mooring slip in the Alameda marina outside San Francisco on a three week voyage to Ensenada, Mexico. On board were five individuals with different backgrounds, the common thread being that they had all met through a USENET news posting seeking cost sharing crew. In addition, two more were to join us at the trip's destination, Ensenada. I had joined because I wanted to experience marine life for a couple of weeks. A few months earlier, I had started thinking about getting a boat myself to live on and this would be a good way to find out more what it would be like. Besides, it sounded like a fun and interesting way to escape an otherwise overcommersialized Christmas season.
The people were, from left to right: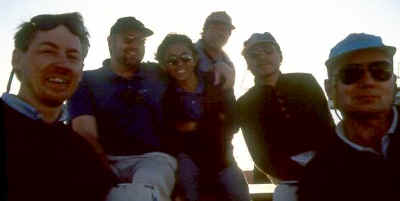 | | |
| --- | --- |
| | Lennart Lövstrand. Swab-in-training. Amateur smart-aleck. Swedish. |
| | Ray Thackeray. Skipper and Sea Star co-owner. Supreme ruler of our little universe. British. |
| | Ashikin Wan-Noor. First Mate and Sea Star co-owner. Cook. Wellington's spiritual mother. Malaysian. |
| | El Bandido. Water taxi man in Ensenada. (Not crew.) Mexican. |
| | Andrew Cheung. Crew. Molecular virologist. Hong Kong born American. |
| | Ken Smith. Seasoned Sea Star crew. Sail mender & Spam fiend. British. |
| | Deborah Clark. Crew. Electrical PR person. American. [Not depicted] |
| | Wellington. Ship's cat. Likes to run away whenever possible. DSH. [Not depicted] |
Now, on with the trip...