Palo Alto, May 28, 1996.
It was a dark and stormy night, they usually say. Well, in this case, it was truly dark, but otherwise rather calm and warm. The time wasn't more than 1:45 am when the alarm rang. Half an hour later, the minibus came and picked us up and yet a couple of hours later, we were at the ridge of Haleakala Crater at about 3000 m / 9000 ft over the sea. And the sea was just what we had come from.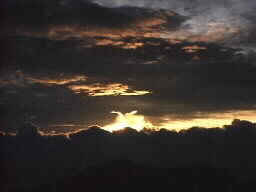 Sunrise over Haleakala.
You see, we are on the island of Maui in Hawaii and the reason why we had risen at such an ungodly hour was because we wanted to see the famous Haleakala sunrise before descending the 50 km / 30 miles back down to the sea on bicycle. It is cold up here. When we arrive, it's still pitch black and probably no more than 5-10 °C / 40-50 °F. I'm wearing a t-shirt, turtleneck, sweater, and a nylon jacket + the overall the trek company gave us. Even with that on, it's hard to keep yourself warm in the icy wind. Slowly, slowly, the sky begins to take color and a few minutes later the first rays of the rising sun break through the clouds. Yes, it was beautiful, but next time I think I'll sleep in.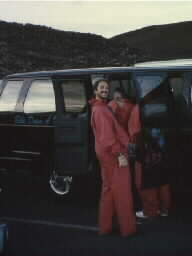 Corby getting ready for the descent.
Around half past six it was time to get on the bikes. Down we went! We were riding on specially prepared bikes with big breaks and no gears. All in all, I think we may have pedaled some 50-100 m, but the rest was just an exercise for the break muscles. Around us, the climate changed in rapid pace. From having started in a lunar-like landscape, the vegetation soon arrived. After a couple of km, the grass came and soon thereafter some trees.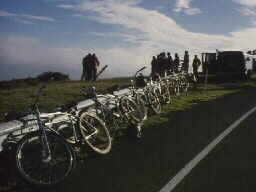 At rest stop two hours down
Further down came green meadows with grazing cows and around eleven, we were finally back at sealevel. Yet an hour later and with a switch to motorized vehicles, we were back at our hotel again some 10 hours after we had started. Were we tired? You bet.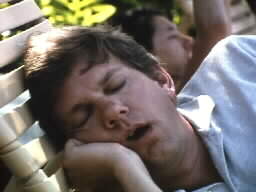 Mike catching a few zzz's by the pool.
This was actually Corby and Mike's last day on Hawaii. They had arrived one day before me and had to return because of their jobs. Not so with me -- I had the whole week off! When they drove to the airport, I rented a Jeep and took off to the less visited north eastern corner of the island.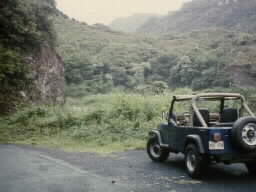 Have Jeep, will travel.
The climate on Hawaii is very comfortable. The temperature is at an almost constant 25 °C / 80 °F around the year and because of the trade winds, the wind almost always comes from the east. This means that most precipitation happens on the east coast while the west coast is comparatively dry. So far, we had spent all our time on the west coast, but I was now heading east. And boy, what a difference! I was immediately greeted by a vivid vegetation and -- hallelujah! -- hardly any tourists at all. It almost felt like I had entered to a different world.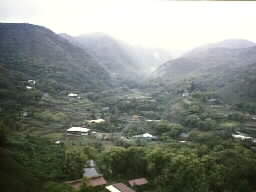 The lost valley.
The road turned back and forth along the rocky shores. Often, it would narrow down into a single lane, one-way road and you could never drive much faster than 20-30 km/h / 15-20 mph. But around every second corner was a surprise! At one place, I found a peculiar collection of stone pyramids -- probably close to fifty, I think. Around another corner I came across a "lost" valley with a whole village spread out along it's slopes.
Unfortunately, the lack of tourism in this area meant that there was very limited lodging here, so I had to continue back to the west coast to find a place to stay for the night. More exactly, I stopped at what most likely had been a very picturesque little village some 10-20 years ago, but now was the absolute opposite of what I had visited earlier in the day with an abundance of restaurants, t-shirt shops, and other tourist attractions. And hotel. I got an air-conditioned room at the old Pioneer Inn in Lahania for $75 a night. A very nice place and very central, although I didn't care much for the artificial coldness.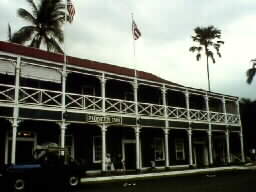 Pineer Inn, Lahania.
During the night it rained for the first time on my trip and it was really wet everywhere the next morning. I had left the top off on the Jeep, but fortunately, it had already dried up in the warm climate. After a quick breakfast I was on the road again. The goal for today's journey was the village of Hana on the south coast. Actually, if I should be honest I didn't really care much about Hana itself; the real goal was the road leading there. It is well renowned for both its curviness as well as its natural splendor. It is over 80 km / 50 miles from Kahului in the middle of Maui to Hana, but it takes between three and four hours to make the journey. During this time, you will be going through over 600 hairpin turns and crossing 50 one-way bridges. Oh yes, it was quite an experience, especially in an open jeep with clear views in all directions.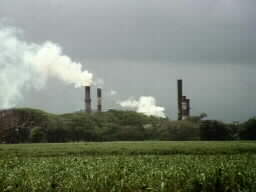 Hawaiian sugar mill.
On the way, I found this sugar mill blowing thick, yellow-white smoke from its chimneys. A bit further down, I found a nature path leading to a bamboo forest.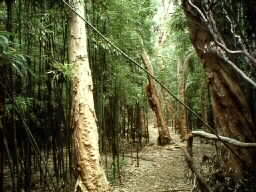 Bamboo forest.
Pretty cool -- imagine walking through a forest full of thin bamboo sticks that rattle in the wind. It's like wading through a sea of percussion. Here I also found the sign furthest down in the picture below. It's a bit hard to see in the picture, but it says: Quiet! Trees at work.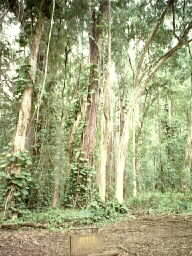 Trees at work.
Next stop was another small park along the road. It was a nice place, but really tiny only containing an paved path leading some 20 m to a little waterfall. That was all. Oh yes, and a fence surrounding the place so you wouldn't get lost and a sign warning that there were no animals in the park. OK, so perhaps they meant that you weren't allowed to bring any animals, but I really don't think it would make any difference.

Warning, no animals!
From this park to... anther park. This one was on the coast just outside Hana. It was significantly larger and had both a camp site as well as cabins to stay overnight in. It had started raining pretty hard by the time I arrived, but it was really nice in the heat anyway. Here, I found the black lava beach below and a hidden cave connected to the sea by an underwater tunnel.

Black lava beach.
According to local myth, it carried the memory of a princess who once was beaten to death by her husband. Since then, the water turns blood red once a year, but it probably has more to do with the life cycle of the shrimp than some supernatural event.

Hana, Road's End.
At last I arrived to the road's end. Hana offered a grocery store and a gas station, but not much more. Since I didn't have any real business here, I just bought a shaved ice at the pier and continued.
Normally, you go back the same way as you arrived, but I had read that there was a backroad too. It was supposed to be in pretty bad condition, but with a jeep you can get anywhere! Lo and behold, it was indeed pretty rough, but not worse than I after a while found myself behind a long row of rental cars who all wanted to take the backroad back to civilization. While driving back, I was served the beautiful sunset below.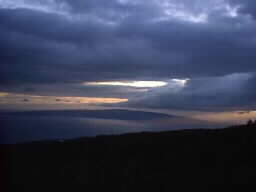 Sunset over Kahoolawe Island.
The shape barely visible between the clouds is Kahoolawe Island , one of Maui's little siblings. The rest of the trip back shook quite a bit, but was otherwise without any mishaps. It took about three-four hours to drive back, so I was pretty tender when I returned. The road led over a big lava field, which was an experience in itself, albeit perhaps not quite as beautiful as the coastal road.
The next day, it was time to take a plane to Kauai, the northernmost member of Hawaii's islands. Kauai is renowned as the garden island because of its exceptional vegetation and boasts with having the world's wettest spot. Fortunately, the wetness is pretty much concentrated at a small swamp at the center of the island, but we'll come back to that. After having checked out yet another little 4WD vehicle at the airport, I take aim at the mountain in the distance and drive off.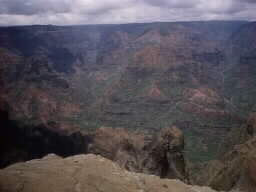 Waimea Canyon, Maui.
As opposed to Maui, Kauai is almost completely round. At the center of the island is Mt. Kawaikini (1598 m / 5243 ft) and the road leading takes you by Waimea Canyon, a deep ravine that sometimes is known as the Grand Canyon of the Pacific. The view from the edge of the canyon is absolutely magnificent! A wide valley lays itself out between the red rocks and everywhere you look, you see a frothing vegetation hanging and climbing as green little spots on the steep sides. This is also a popular destination to visit by means of helicopter, and every few minutes you see them swarm by as giant flies in the distance.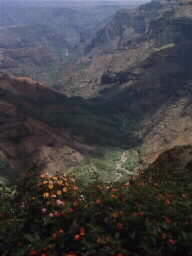 Waimea Canyon, Maui.
Otherwise, everything is calm and quiet. A few other visitors are enjoying the views with me, but it's low season so it's not very crowded. My goal for the day is Koke'e State Park a few miles north at the end of the road. According to my guide book, they rent cabins and even thought it's recommend that you reserve them several weeks in advance, I'm hoping for luck. Quite so, when I arrive it turns out that they've had a cancellation for a 6-birth cabin. How much, I cautiously ask? $35, the lady says. Wow, that's cheap! And another $9 for a pack of wood, she adds. Do I really need that? Well, it gets rather cold at night up here, she says, often down to 10 °C / 50 °F. I buy the pack even though I suspect it won't last very long. It's nice with an open fire in any case. I also purchase a packet of spaghetti and a can of tomato sauce because the park cafeteria is closed for the day and there are no other restaurants in the area.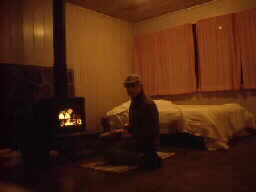 Heating up the cabin.
The cabin turns out to be a rather worn down building that more resembles an old scout lodgment. A lone room holds the 6 beds and from the concrete ceiling a naked bulb shines. A laminated table with foldable legs stand in a corner, but no chairs are seen. There is nothing wrong with the stove, on the other hand, and within a few minutes, I have a roaring fire burning.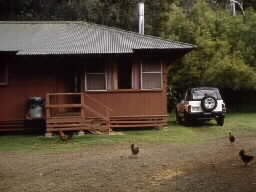 Chicken were my neighbors.
The next morning I wake around half past six in the morning by a rooster crowing outside. The fire is of course out and it is cold in the room. The thin blanket that came with the bed was completely inadequate, but because I had all the beds for myself, I borrowed 3-4 from them, which made it passable. It was now so cold that you could see your breath in the air, so I quickly started another fire with the last log that I had saved from the evening before. It didn't help much, but it was nice to see the fire again.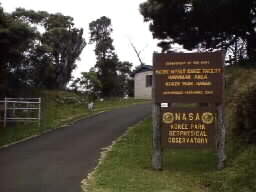 Pacific Missile Range Facility / NASA Kokee Park
About an hour later, I was on the road again. Today I had in mind to explore the park some more and around the corner I find... A military base and a NASA center! It turns out that they have an installation on Kauai to look for missiles in the air and submarine activity under water. Pacific Missile Range Facility, the sign says and it isn't the only site in the area -- I think I count about four different signed entrances in a short while. All of them are contained by barbed wire and guards, so I take off in the opposite direction instead.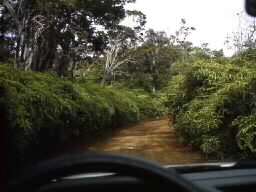 Ho, ho, ho, in we go!
Here I find a little dirt road that according to a sign requires 4-wheel drive. Cool, I think and immediately take off! The road turns and twiststhrough a rainforest-like jungle. Huge ferns frame it on both sides and the vegetation is intense.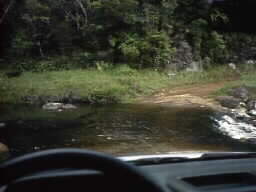 Thank God for 4WD.
We're going toward the world's wettest spot according to the map, something I don't doubt when I a little later have to cross the flooded section to the left. I'm sure glad I have that 4-wheel drive and high clearance now.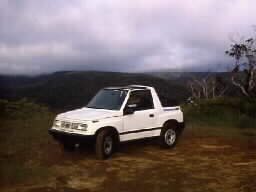 My trusty little Geo Tracker
A little further ahead, I park the car on a ridge and start walking along a path that according to the sign is leading to the Alakai swamp at the island's center, some 5.6 km / 3.5 miles away. When I start my trek, the sun is shining and it's warm and nice, but soon the clouds close over me and the hike continues into a world covered in fog. It's actually not bad at all.

Fog is water too.
It soothes and cools a hot hiker and it really is like you've entered a different world. The walk is relatively easy because they have laid a boardwalk over the damp ground. When the path takes you down into a valley, they've even made a staircase to walk down!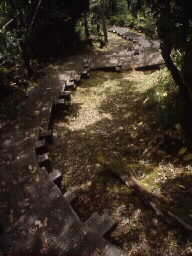 Steps towards Alakai.
Well, at least on one side. When the path starts taking me back up again, it looks like they didn't bother with that side because I'm now back on terra firma. A little while later, the boardwalk returns, but not for long.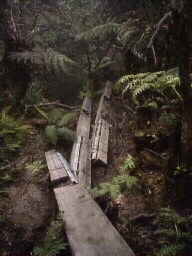 The jungle takes over.
As the environment turns more and more rough and rugged, the boardwalk loses it's shape. After a while, all you have left are packages of timber that lies unopened along the path. You can still walk on them, at least some of the time, so I guess I shouldn't complain too much. That they were able to get the stuff here in the first place is nothing less than a miracle, but it looks like they still have some to do before it's finished.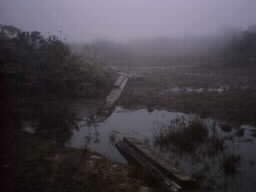 ...followed by the swamp.
From jungle the path takes me to a pure swamp -- and a very wet swamp at that. And active! Everywhere you see trees and other plants turning into green slime. Except for that, everything is white around me and you can hardly hear a sound. When I finally arrive at the end of the path, the moment is anticlimactic.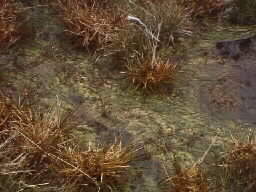 Yuck! Slime.
Normally, this is an excellent viewing spot where you can see all the way to the sea on the northern side of the island, but today, everything is covered in the same white fog that I have been walking through for the past two hours. Oh well, at least the walk itself was nice.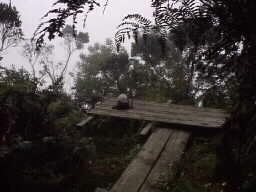 The end is here.
The return is fairly painless and I'm back at the car again some 4 hours after I started, tired but satisfied.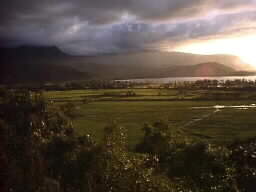 Sunset over Hanalei.
From here I had in mind to go to the island's northern coast, but because there is no passage across the north western corner of the island (probably at least partially because of the military bases),I have to drive all the way around the island to get there. Fortunately, Kauai isn't very large so a couple of hours later I arrive to the little village of Hanalei almost straight north from the swamp I was at earlier. By this time, it's late in the afternoon and I arrive just in time to see the descending sun caress Hanalei's green valley with its last remaining light. Mmm....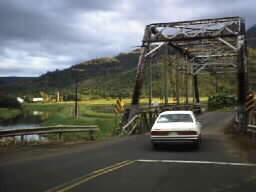 The Hanalei bridge.
The road to Hanalei goes across an old single lane bridge that was built in the early 1900s. Because it can't handle heavy traffic, this part of the island has been protected from heavy development and the huge resorts that you can find elsewhere on the island. It's even so bad that ordinary tourist buses can't cross the bridge, so you won't even see any day tourers here. Definitely a plus!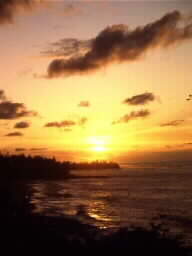 Na Pali sunset.
The village itself is very small, but quite modern with good shops and excellent restaurants. Although there are no real hotels here, I find to Bed & Breakfasts and select The Historic B & B for the night. It turns out to be an old Buddhist temple that has been converted to be a guest hose with three rooms for temporary visitors. The place is run by Jeff and Belle Shepherd who moved here a few years ago from the main land. Jeff is a former cook, so the breakfasts are quite OK.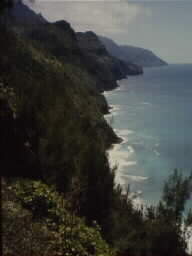 Na Pali's rugged coastline.
The next day I continue to take a hike along the Na Pali coast's famous Kalalau Trail. It starts where the road ends at Ke'e Beach and continues all the way back to Koke'e State Park that I left the day before -- although half a mile closer to sea level.The only way to get there is using your own two feet (or possibly chopper), but it is a popular journey so I meet a lot of people on the way. Unfortunately, I only have a few hours to spend because I already had booked myself on a Zodiac tour along the coast later in the afternoon, but it is enough to get a good feel for the environment. The path is relatively narrow and twists its way up and down the mountain side. Even if it is pretty easy to follow, the hot sun and the steep cliffs soon makes me sweat like a pig.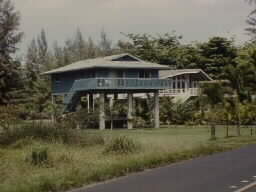 Stilt houses.
When I return to Hanalei, I find the houses to the left, all built on stilts. I presume this means that there is a pretty high risk of floods here. The area is otherwise very lush and have excellent beaches. I can't help to toy with the idea of buying a house here, but when I later look in the window of one of the two local real estate agents, I immediately forget the idea. It is expensive here! A little beach house goes for $400,000 and I don't even want to think what a nicer mansion up the hills would cost. I can kind of understand why too -- after all, space is very limited and the area is pretty enough. Still, it's rather paradoxical when you compare with a lot of the people I find here, many of which are surfers or post-hippies with cars like the one to the right. Not exactly a luxury vehicle, I'd say.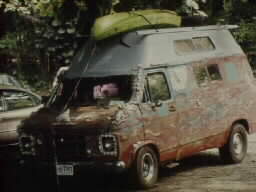 Surfmobile 1.
Speaking of surfers, it is time to get out on the sea together with skipper Mike and his first mate Chad in their steady rubber boat. All in all, we're about 10-12 paying passengers and a few "hitch hikers" who jump off on the way to catch those special waves that are so hard to get to otherwise. Alas, it is a calm day today, they bitterly complain. Oh well, better luck next time. I can't say I mind.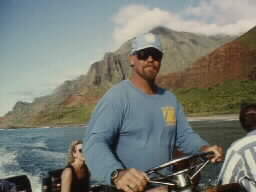 Skipper Mike.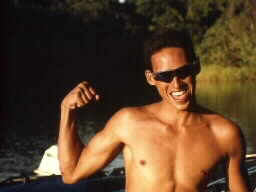 First Mate Chad.
The sight seeing tour follows the coast west bound and we soon pass the stretch I walked earlier in the day. What meets us from here is a completely different view than the one from above and what then was a sweaty two-hour hike is now passed in less than a minute. Oh the wonders of modern technology.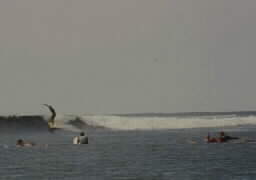 Surf's up!
When I walked up there, I passed a couple of streams. Here they area again at the place where they rejoin the sea. If you look really closely, you can even see a permanent rainbow close to the surface.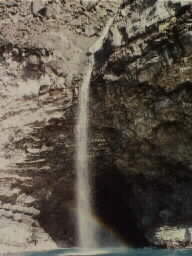 Waterfall.
After having inspect both the "outside" and the "inside" of the waterfall, we continue and arrive a few minutes later just under the place where I the day before was trying to get a glimpse of the sea. Then, like today, the viewing point is covered in a thick fog,but now at least I know what it looks like from the other side.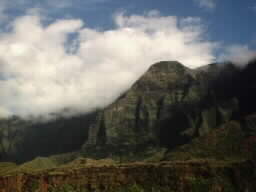 Kalalau lookout.
After a while it is time to return, but not before we do a short detour into an "inverted island," i.e. a little hole in the weather beaten cliffs that the sea has found its way in to. After a refreshing dip, it's time to return. It's really impressive how fast these Zodiac boats go! Together with Chad, I ride the waves back standing in the center of the boat holding a rope fastened at the front of the boat. It's actually not that hard and even more comfortable that bumping up and down on the rubber.
Thus ended my last day on Hawaii. Here are finally a few more shots from Hanalei in the setting sun.
Enjoy!